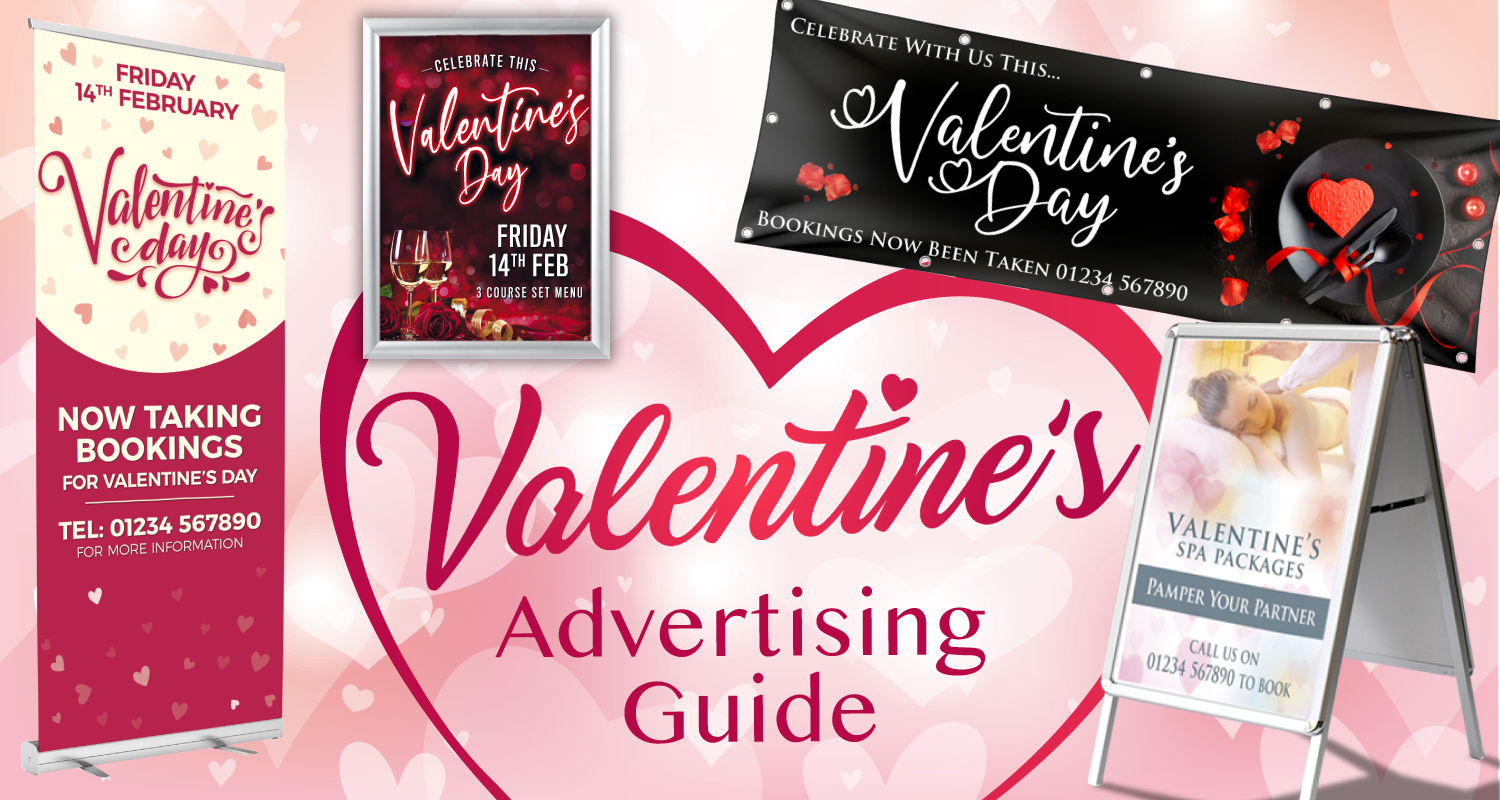 Welcome to our Valentines Day point of sale display guide. It's important to prepare early for Valentines Day by promoting yourself as much as you can as early as you can, our range of promotional banners, posters, point of sale and product displays will make your business stand out to new and existing customers and help to increase your sales.
Valentines Promotional Banners and Posters
Valentines banners and posters are a great cost-effective way to promote and advertise your Valentines Day event, special offer or promotion. We offer a range of indoor and outdoor banners, from PVC banners, to roller banners, sometimes known as pull up banners or pop up banners. Our range of pre-designed banners and posters are available in various sizes and styles.
Our banners and posters can be-redesigned and changed to suit your requirements, adding your corporate logo, establishment name and contact details. Have your own artwork? We can print from artwork you supply, simply give us a call 01173326645 or email support with your requirements.
Customised Vinyl Banners
Resilient, robust and waterproof, our PVC banners are ideal for either indoor or outdoor use. Simply add your details to our pre-designed banners. We can also print from your own artwork supplied or our design team can create an eye-catching banner for you. Our high-resolution digital print system guarantees outstanding results every time which adds real depth to your exclusive banner design. When your ideal customers see your great business offering on a custom printed PVC banner.
---
Customised Waterproof Posters
Share the love with a personalised marketing poster for your business. Printed on polypropylene film these posters are a perfect way to show your customers how much you value them, whilst being a great opportunity to tempt them to your venue for the complete valentine's experience.
Should your requirements not be met by our pre-designed range of posters. We can print from your own artwork supplied or our design team can create an eye-catching poster for you.
---
Indoor Poster Frames | Outdoor Poster Displays | Menu Displays
Present your Valentines Day promotional posters, new Valentines Day menu or special offer in a perfect way by putting them in a frame. Frames help protect the life of your poster.
Snap shut frames are the most popular indoor poster frame, as they come in a wide range of styles, sizes and frame colours to suit any poster. We also have a large selection of pavement signs, A-Boards and sandwich boards which can also help boost sales and footfall over the festive period.
Below are some of our best selling poster frames and holders. If you cannot find the product your looking for, give us a call 01173 326645 or email us at support@catersigns.co.uk with your enquiry.