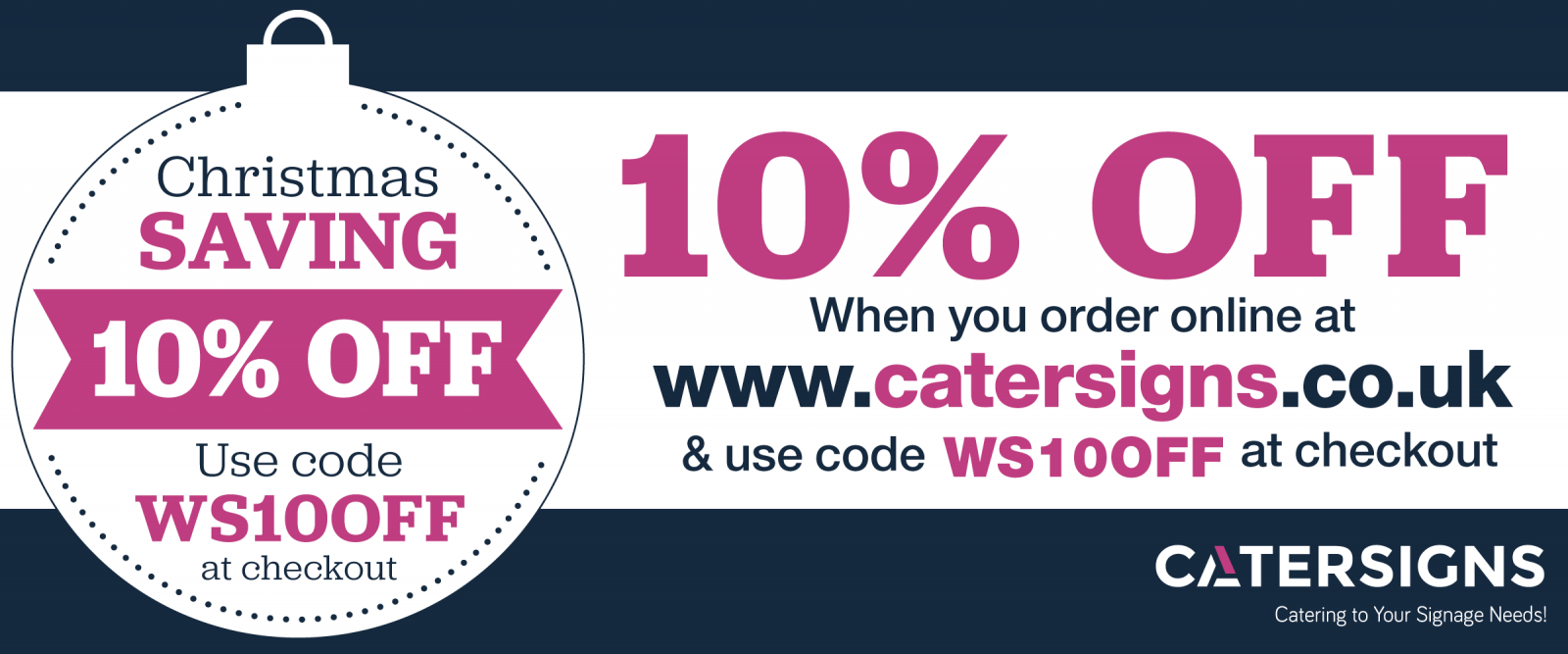 Welcome to our Christmas point of sale display guide. It's important to prepare early for Christmas by promoting yourself as much as you can as early as you can. Our range of promotional banners, posters, point of sale and product displays will make your business stand out to new and existing customers and help to increase your sales over the festive period.
Christmas Promotional Banners and Posters
Get prepared for the Christmas party season
Christmas banners are a great cost-effective way to promote and advertise your Christmas event, special offer or promotion. We offer a range of indoor and outdoor banners, from PVC banners, to roller banners, sometimes known as pull up banners or pop up banners. Our range of pre-designed banners and posters are available in various sizes and styles.
Our Christmas and New Year banners and posters can be-redesigned and changed to suit your requirements, adding your corporate logo, establishment name and contact details. Have your own artwork? We can print from artwork you supply, simply give us a call 01173326645 or email support with your requirements.
Indoor Poster Frames | Outdoor Poster Displays | Menu Displays
Present your Christmas promotional posters, new christmas menu or special offer in a perfect way by putting them in a frame. Frames help protect the life of your poster.
Snap shut frames are the most popular indoor poster frame, as they come in a wide range of styles, sizes and frame colours to suit any poster. We also have a large selection of pavement signs, A-Boards and sandwich boards which can also help boost sales and footfall over the festive period.
Below are some of our best selling poster frames and holders. If you cannot find the product your looking for, give us a call 01173 326645 or email us at support@catersigns.co.uk with your enquiry.
Christmas Chalkboards & Message Boards
Chalkboards, blackboards, message boards, call them what you will, they are still the most popular purchase for daily changing promotions or offers. Simple easy to use, write on and wipe off surface, perfect for cafes, hotels, bars and restaurants to showcase any message. From pavement chalkboards, counter top and bar top message boards, also known as table talkers to wall hanging chalkboards.
We recommend that you give your most creative member of staff a set of our waterproof liquid chalk pens and let them express their creative passion to create a bespoke eye-catching sign on your chalkboard. Check out our NEW Festive themed Table top range ideal for the hospitality industry.
Christmas Banquet table number stands - Menu holders & Menu Covers
The Christmas party has arrived, Where do we sit? , Where is the menu?. It's the little things that count. We have vast selection of table numbers in various styles and sizes, our stainless steel number stands are very popular purchase for christmas functions and party table identification.
Many of our Menu Holders and table numbers can be personalised with your corporate logo. Leave a lasting impression with a quality menu cover, we have a range of styles and colours available, no more tatty bits of paper or dirty menus and are covers can be wiped clean. Below is a selection of our best selling lines over the Christmas period.