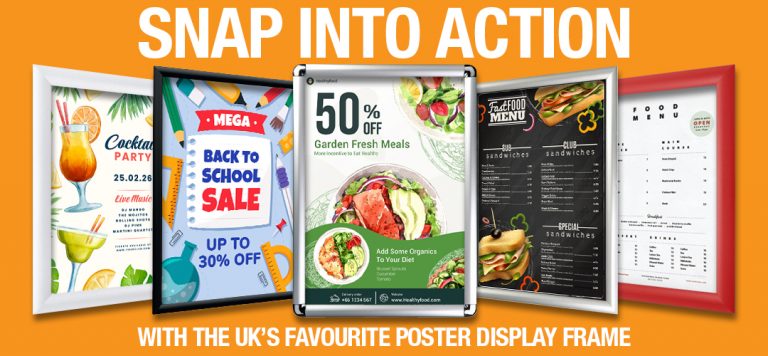 Snap-Frames are the United Kingdom's most popular poster display frames, and there are many reasons why.
First of all they are available in many different colours and sizes, which is perfect for any business. They are versatile, which allows them to be used to display anything from Posters to Menus, Charts and Graphs to Public Notices to Art and Photography. Anything the consumer wants to promote.
However the most important reasons the public chooses Snap-Frames, is because of their ease of use, the quality of product and the price. And the fact that you get this quality of product for such a great price makes them a must for any business.
The ease of use is great for companies that constantly need to their update product, as they need something that can be quickly changed when they update their information, that is also reliable.

The Versatility of the Snap-Frames makes them great for any occasion, whether it's Menus, Posters, Charts & Graphs or Notices, people choose Snap-Frames because they Safe & Secure, Reliable and East to Use.
The Variety of the Snap-Frames makes they essential for any business or home, they come in a wide range of colours, and sizes perfect for your every need. There are also options which include lockable fronts, and some with even Ceiling Hangers too, Snap-frames perfect for any business.
Finally the Cost Efficiency of Snap-Frames make them more popular than anything out in the market today. Along with reliability and ease of use and quality of the actual product makes the a must for any business.
Our rage of Snap-Frames does not just stop at wall-mounted frames, they also include they likes of Snap-Frame A Board Poster Pavement Signs and Sightmaster 3 Poster Forecourt Sign, both of these products use the same premises as the and indoor poster frames, However these, can be used outside in all weathers.
Did you know, We can also design and print your Posters/Leaflets/Menus for you? Which you can get everything you need from one place, so there is no need for you to worry about anything, we can take take care of everything ourselves. Call us on 01173 326645 or Email support@catersigns.co.uk.